Twelve prints designed for the 'Zak the Collie Dog' range by Cumbrian based artist Jo Witherington Art.
They will arrive mounted in an off-white mount and if you choose they can be framed in white wooden frame. Size: 10x8"
Mr H's Warhol-esque design of 'Zak's Lakeland Legacy' has 12 words, 12 colours and 12 magical years to celebrate the life of Zak the Collie Dog. Each colour-way represents a word and the words came from Zak's loyal followers:
ADVENTURE - Take me on a great adventure - Wasdale 
ALIVE - Alive in the Lakes - Ullswater
BEAUTIFUL - Nowhere else can be as beautiful as this - Derwentwater 
FAMILY - My family, my world - Windermere
GREEN - Green spaces are my favourite places - Grizedale Forest
HARMONY - I wish you peace, harmony, & happiness - Aira Force 
INSPIRING - Inspiring, whatever the weather - Seathwaite 
JOY - A place of joy and wonder - Cathedral Cave 
KINDNESS - Your kindness knows no bounds - Castlerigg 
LOVE - I love you more than words can say - Cat Bells
OUTDOORS - I came, I saw, I conquered! The Great Outdoors - Scafell Pike
SUPERSTAR - You are my superstar. A bright, shining light - Elterwater  
————————————————————————————- 
Exclusive to Cherrydidi, the Zak the Collie Dog range has raised over £16,000 to date, for Lake District Mountain Rescue Search Dogs and The Border Collie Trust GB.
Zak the Collie Dog was born on a smallholding in Glenshee, and brought to Cumbria as a pup, where he grew up to become the official, and very much loved, Shop Dog to Cherrydidi!
Our Zak range was designed and created by Mr. H, who came up with the idea to raise money for charities working with dogs, using Zak's striking yin-yang markings as a logo.
When we lost Zak, in April 2021, it quickly became clear that his followers wanted to continue celebrating his life and the values he represented - kindness, joy, adventure, family, love of the outdoors – to name a few.
Many of Zak's loyal fans will have met Zak's daughter and son, Jesse & Jack, littermates. 'Jessedog' & 'Jack the Lad' carry on Zak's wonderful legacy.
Zak's Legacy - Love, Green, Outdoors, Harmony, Superstar, Beautiful, Alive, Kind, Adventure, Joy, Family, Inspiring. 
Shipping and returns
You can collect between 1.30pm-3.30pm from Cherrydidi Keswick on Fridays and Cherrydidi Ambleside on Saturdays. Please call 017687 71170 to confirm your time slot so we can keep everyone safe.
Standard Delivery - £4.00
(5 working days)
UK orders will normally be received within 5 working days. Choose this option if you're not in a hurry to receive your order and we'll use the most efficient delivery method possible. (This method only covers up to £20 compensation for loss or damage) 
Special Delivery - guaranteed by 1pm (insured up to £500) - £11.00 (Next Working Day delivery on orders placed before midday)
Delivery next working day for orders placed before midday (Mon-Fri). This method covers up to £500 compensation for loss or damage (we strongly recommend selecting 'Special Delivery' for items worth over £50). 

International Tracked & Signed Delivery - Europe: £14.90 (covered up to £250)
International Tracked & Signed Delivery - Worldwide: £24.70 (covered up to £250)

International orders will normally be received within 7-14 working days, depending on the destination.
Help
Thanks for continuing to buy British handmade ethical gifts & unique art from Cherrydidi. Finding that perfect gift for a Mum, Dad, brother, sister, your kids, girlfriend, boyfriend, special woman or man in your life, a special friend or even the home, can be a real challenge so we're glad to have helped. We are a little like Not on the High Street and Etsy but the main difference is we have a real shop you can walk into as well as finding beautiful things online too!
Whether you visited our shop/gallery in Keswick, The Lake District (and met the famous Zak the Collie Dog) or have found us online, buying a gift or piece of art from us will in turn support these talented independent artists and creative businesses - we couldn't do it without you, so thank you for supporting us.
Beautiful / Mounted
Love / Mounted & Framed
Inspiring / Mounted
Harmony / Mounted
Joy / Mounted
Kindness / Mounted
Outdoors / Mounted
Superstar / Mounted
Green / Mounted & Framed
Green / Mounted
Beautiful / Mounted & Framed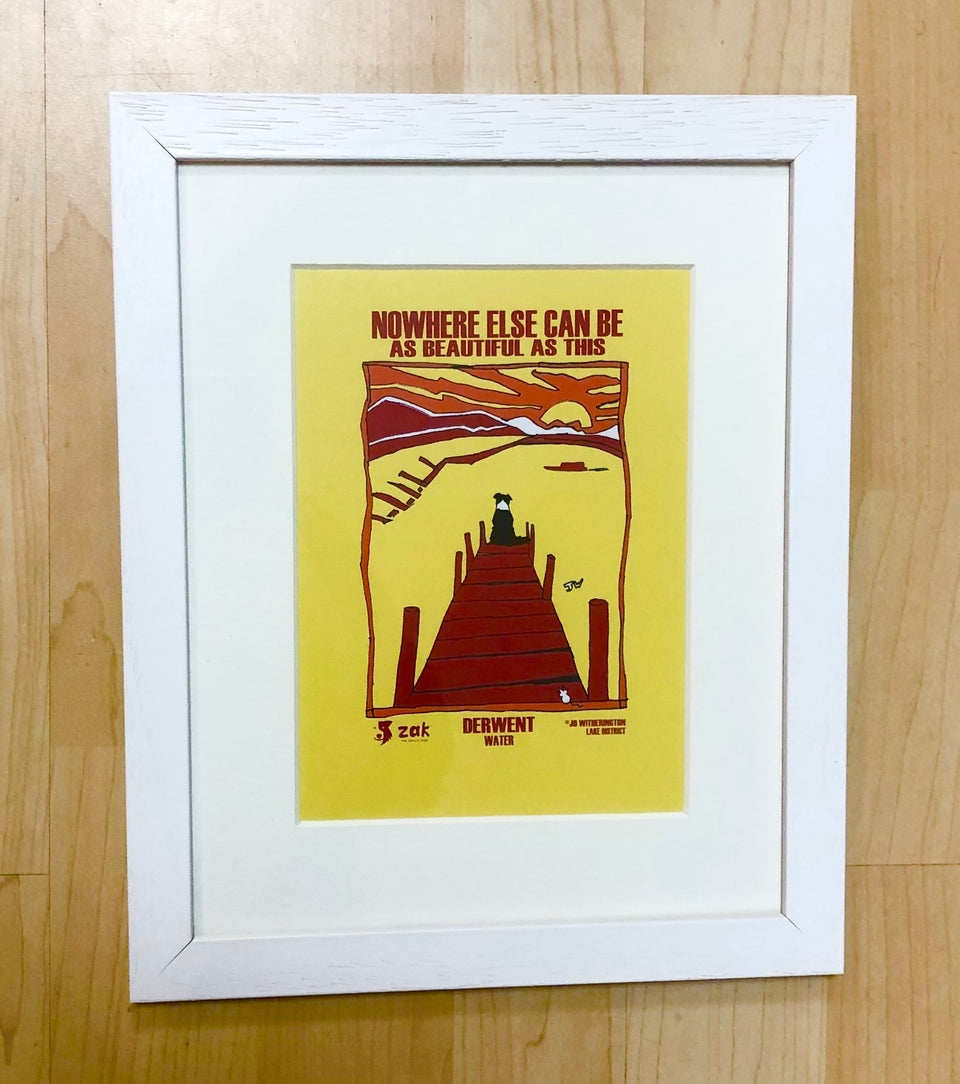 Love / Mounted
Alive / Mounted
Alive / Mounted & Framed
Adventure / Mounted
Adventure / Mounted & Framed
Family / Mounted
Family / Mounted & Framed